Technology
Under its Technology arm, Crescendas operates businesses that focus on energy conservation and renewable energy. Singnergy is a company that design and manufacture energy efficient drying system that has a wide range of applications including treatment of sludge waste from industrial and municipal activities, recycling of food waste to by-products and renewable energy products. Crescendas also operates an accredited energy services company, Singapore Green Engineers, that offers solutions for implementation of cost-effective sustainable energy efficient strategies to building owners and facility operators.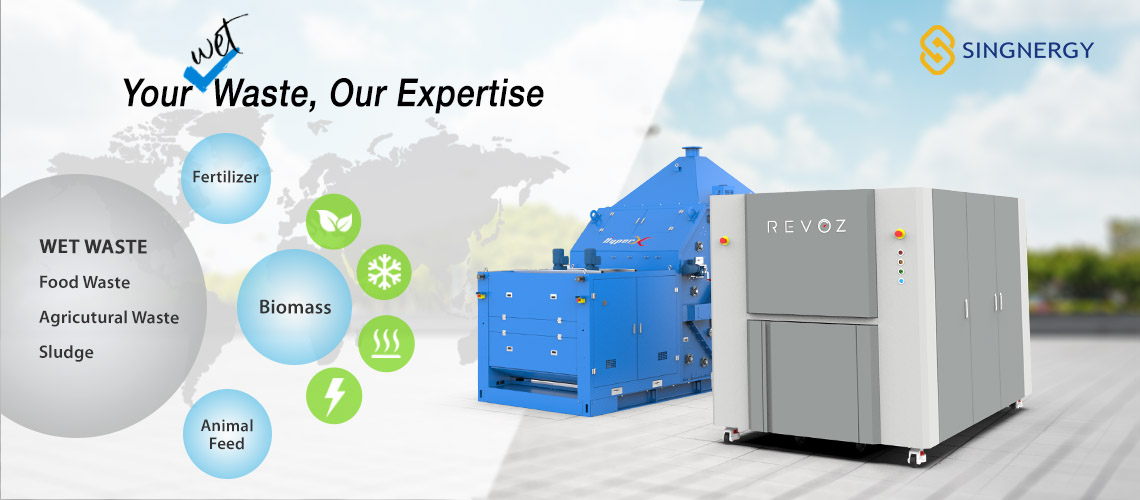 Singnergy is a company that specializes in Energy Efficient sludge drying solutions, owning several patents in this area. We develop, design and manufacture innovative sludge drying systems to address the growing concerns of sludge waste from industrial and municipal waste water treatment plants, which urgently need new technologies to reduce sludge volume, reduce pollution or turn sludge waste into bi-products or renewable energy products.
Our sludge drying solutions rank amongst the most energy efficient systems available today, saving more than 35% energy compared to typical thermal drying processes. Other advantages include smaller foot print, flexibility in handling various types and conditions of sludge, ability to produce a wide range of product requirements and adapt to various types of energy or fuel sources, saving both space and energy.
Apart from selling and leasing sludge drying equipment, Singnergy also provides sludge drying services at customers' premises.
Visit www.singnergy.com to learn more about our energy efficient sludge drying solution. For enquiries, please call (65) 6692 6887 or email info@singnergy.com.
Singapore Green Engineers

Singapore Green Engineers Pte Ltd (SGE) is an accredited energy services company (ESCO) as well as an accredited energy performance contracting firm in Singapore. Its founder, Er. Patrick Foong received the prestigious accolade of Green Engineer of the Year 2014 which was awarded jointly by the Building & Construction Authority (BCA) and Singapore Green Building Council (SGBC). SGE's mission is to help building owners create a more cost-effective and sustainable environment through the implementation of energy-efficient strategies and green technologies. In 2014, it became a member of the Crescendas Group which has diverse business interests in the area of property development, hospitality and provision of technology-based energy solutions to the building industry.
SGE's core services are:
Energy Auditing & Post-Retrofit Performance Monitoring
Energy and Green Mark Consultancy
Energy Performance Contracting
Funded Design & Build Solution for Upgrading of Major Building Services
Chilled Water Service Provider
Visit http://www.sgengrs.com/